Recently while searching for little floating toys, I came across some inexpensive Chinese LED pool lamps. Most sellers described them as water-activated lotus/lily LED flower lamps. Out of curiosity, I purchased a few of them from Amazon, and I was amazed by those beautiful gizmos!
I'm sure, instead of buying a Chinese pool LED lamp online, I can quickly make one with a few things laying around. Since my real intention was to uncover the secrets behind it, I bought a cluster in haste. That's it!
Initially, I thought the lamp was a tiny solar-powered device, but I quickly noticed that it holds a 3V non-rechargeable lithium coin battery inside to energize the 5mm candle-flicker LED sited atop. In addition, the lamp has a pair of sensor probes at the bottom to detect the presence of water.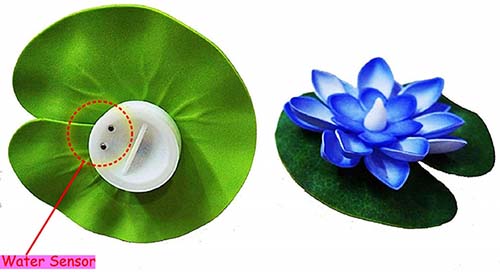 Then things became clear in a way. Anyway, let's take a look at the secrets inside the lamp.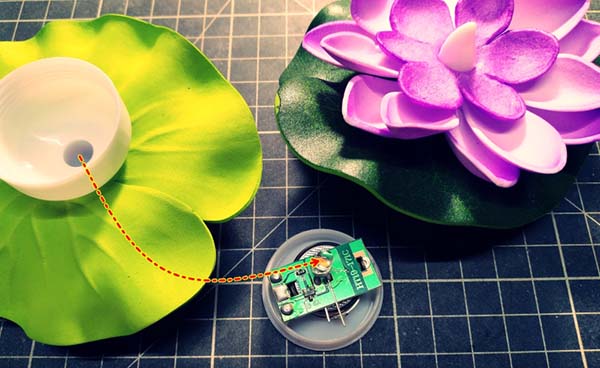 As you can see clearly, there's a small PCB inside the lamp which's powered by a CR2032 lithium coin battery. Note, the 5mm LED is a special "Candle Flicker" LED which's in fact an ultrabright yellow LED with a water-clear lens. These LEDs are very similar to the common 5 mm LED except it has an internal chip that varies the brightness randomly, giving the LED a flickering candle flame look (https://resources.kitronik.co.uk/images/other/3590-yellow-flickering-candle-led-animation.gif).
I've prepared a schematic diagram to understand the electronics of the lamp a bit better. See it below. This never needs an explanation, does it?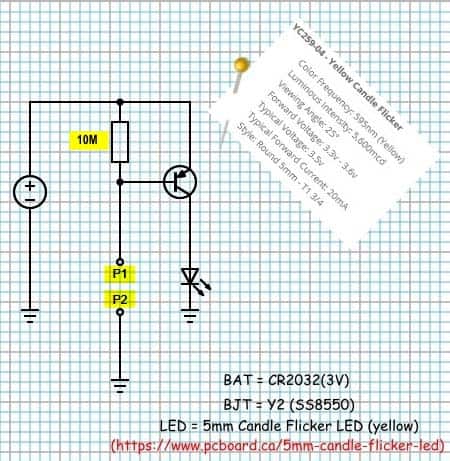 It's time to see the PCB close-up (sorry for the muddy photo)!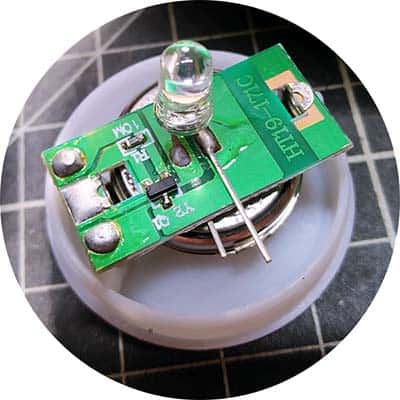 To be honest, I really liked this little electronics art. The only thing I don't like is that the CR2032 battery runs out quickly. Yes, I know they've a lot of design restrictions when it comes to cheap commercial products!
As indicated in the datasheet, the maximum forward current (IF) of the 5mm candle flicker yellow LED is around 25mA (VF = 2.5V to 5V, no series resistor required). At this time, remember that the typical capacity of a regular CR2032 lithium coin battery is 235mAh (to 2.0V/Rated at 15KΩ at 21°C). See the continuous discharge characteristics of Energizer CR2032 below (borrowed from https://data.energizer.com/pdfs/cr2032.pdf). Did you get something to do with your calculator?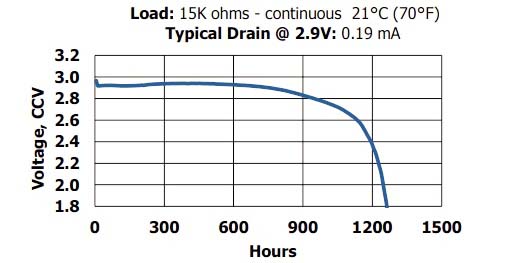 No matter, these pool LED lamps are waterproof and lightweight, they float smoothly in water and up sticks subtly to create a tranquil light effect. Awesome!
Oh, I almost forgot that, according to my seller's description, the pool lamp is made using EVA material. EVA (ethylene vinyl acetate) is the copolymer of ethylene and vinyl acetate. The weight percent of vinyl acetate usually varies from 10 to 40%, with the remainder being ethylene. The higher the VA content the more rubber-like the EVA resin is (https://en.wikipedia.org/wiki/Ethylene-vinyl_acetate).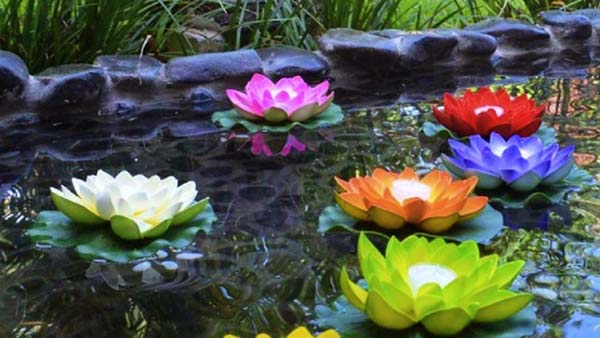 What's more, these lovely pool lamps are suited for all water features, including outdoor ponds and lakes and even in water fountains and aquariums, as they're able to float and are resistant to rain and water splashes. They can also be used for fancy table lighting at home and in the garden – just put it in a fancy bowl filled with water or a wet sponge!
Luckily, this floating LED lamp can be easily hacked so you can make exceptional fancy lights without touching its internal electronics parts. Let me share some simple hack / reverse engineering ideas.
For simple hacks, you first need to pick a base or holder for the lamp, whether it's homemade or 3D-printed. Note, the base/holder should have two cleverly spaced metal strips as loosely depicted in the below templet.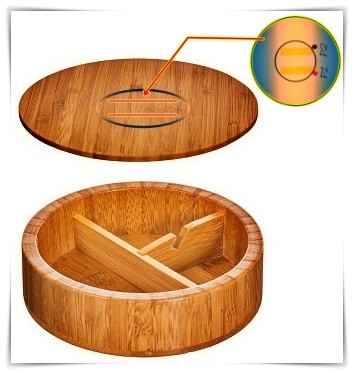 From now on, you only need a few electronics inside the lamp base/holder to "electrically" open and close the metal contacts. Thus, you can turn the pool lamp on and off as desired!
For example, look at the following concept.

Just insert a 1KΩ resistor between P1 and P2 metal strips available in the base/holder to turn the lamp on, or use a 5mm yellow LED instead (it will also lights up). In case you need to modulate the candle flicker through an audio signal, employ a Vactrol (https://www.electroschematics.com/vactrol-a-lazy-walk/) as shown in the wiring diagram. I used the LCR-0202 Vactrol for the experiments because there's still some stock left from previous projects (https://www.codrey.com/electronic-circuits/audio-light-modulator/).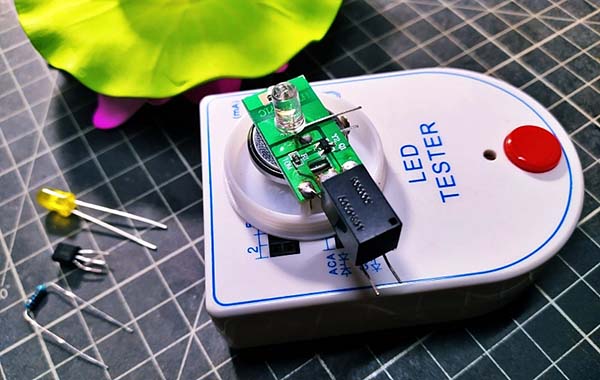 So, there you have it. A simple pool lamp you can hack by yourself. I hope my crude hack ideas mentioned above do not refrain you from thinking about some better and more exclusive hacks you can do!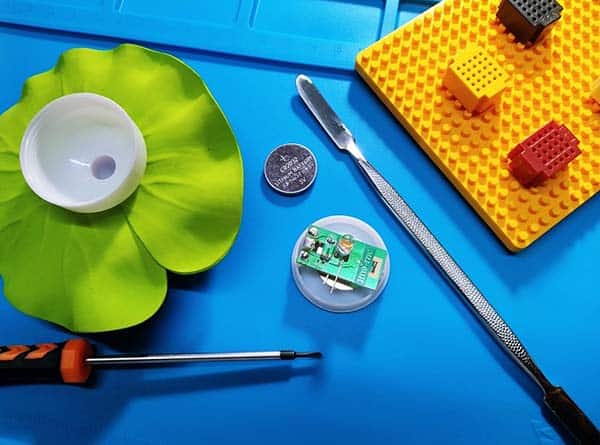 Finally, floating paper lanterns, like pool lamps, look beautiful in the lake and you can also make them at ease. Basically, a paper lantern is a simple paper structure (usually supported by Styrofoam) that often has an artificial light source at its center. This a great guide to build your own floating paper lanterns https://www.guidepatterns.com/ways-to-make-floating-paper-lanterns.php