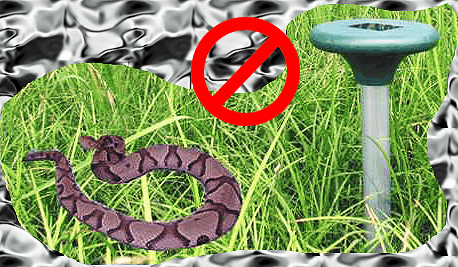 Solar electronic snake repellent presented here is a proven solution to keep all poisonous snakes out of dog kennels, stables, etc. All you need is to simply place the device on the ground to remove snakes on your property, quickly and safely. Structural details of the standalone, do-it-yourself, solar electronic snake repellent gear is shown below.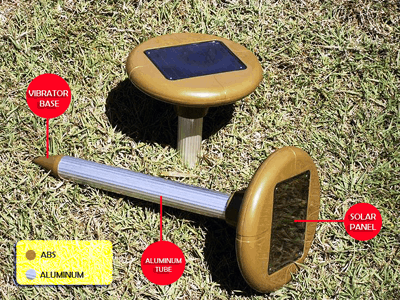 The system comprised a small solar panel, rechargeable battery, essential electronic circuit, and an aluminum tube/pipe. The aluminum cannulation (which also carries the electronics and battery inside) is preferred because it offers more durability, and is more comfortable to insert in the soil. The body of my experimental model (not demoed here) was fabricated with the help of ABS and Aluminum scrap picked up from a junkyard.
Mechanical Data (for reference only)
Masthead diameter: ~300mm
Aluminum tube length: ~ 600mm
Aluminum tube diameter: ~ 60mm
Vibrator base length: ~  30mm
Most snake experts will agree that snakes will flee if get an opportunity to do so.  The unique circuit has been designed to scare away many kinds of snakes. As it emits a strong pulsing vibration into the ground, the snake perceives the vibration as a source of danger and moves away to avoid encounter. Note that the density of the soil will greatly affect the effectiveness of the device. The more solid the ground, the better the device will function (frozen soil, irrigated or waterlogged ground never give good results).
Here is the tried and tested little schematic of the efficient snake repeller. The function of this circuitry is very simple – to briefly turn on the 400Hz vibrator every 30 or so seconds!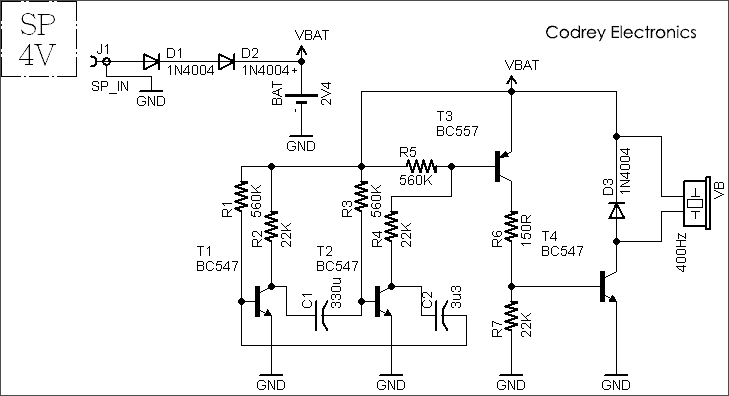 Crucial System Components
SP = Solar Panel: 4V/100mAh x1
BAT = Battery: 1.2V/600mAh (Ni-Mh) x2
VB = Vibrator: 400Hz/1.2V Mechanical Buzzer (Alibaba Part No: MSMX33A04W01)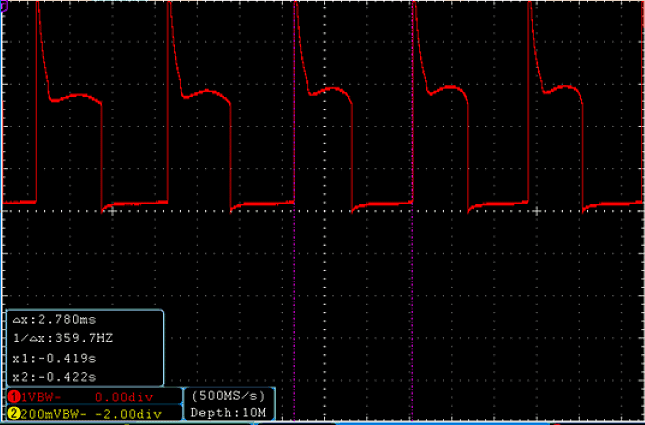 Courtesy Note: Some guesswork has been applied here, and some images from internet (later tinged by me) were used as representational images. This is an inspired design; thanks to Alibaba for their electronic snake repellant devices!