Let me introduce another minimalistic circuit of a simple Selfie light based on generally available low-cost components. The idea presented here is a compact USB chargeable design with inbuilt rechargeable battery and dedicated battery charger circuit. After successful construction you can put the whole electronics into a beautiful handmade or 3D printed translucent enclosure.
Key Components
TP4056 1S Li-Ion Battery Charger Module x1
7V/150mAh LiPo Battery x1
Micro/Wearable Tactile Power Switch x1
Piranha Super flux 5mm Warm White LED (W1302-01-white) x 5, OR
1206 High bright SMD White LED (A-1206UWC) x5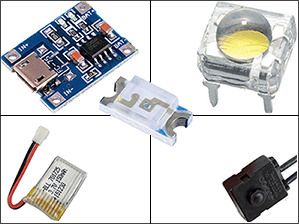 TP4056 Module Hack
Since the TP4056 module offers 1A (1000mA) charging current by default, a one-time hack is necessary to use it in this project. What you actually needed is just 0.1A (100mA) of charging current from the module. So replace the onboard 1.2K chip resistor (122) with a 12K chip resistor (123). That's all.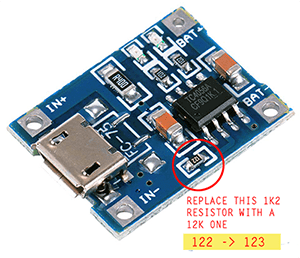 Wiring Diagram
Here's the complete wiring diagram. Note that the LEDs are connected in parallel (across the battery) without any series resistors as it's not very crucial here. Let it be!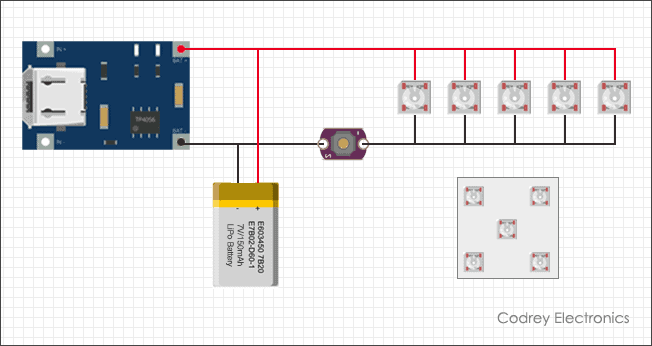 Get More…
This simple Selfie light can be charged from any USB port/USB standard power supply. If you owned a "Micro USB male to Micro USB male OTG" cable, then it's very easy to recharge through the USB OTG port of your smart phone.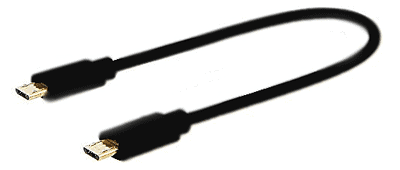 Further, if your lovely partner really enjoy to do makeup on the go, then she surely going to an awesome mobile mirror app for makeup – the Android Mirror, for instance. Tell her that Selfie Light built by you can be used as a luxury make up light too!