Presented here is a shortcut to build your own bluetooth stereo audio adapter for listening 'wire-free' stereo music on the go! The one and only building block of this project is a Chinese bluetooth audio transfer module – the MH-M28. MH-M28 module is a low-power bluetooth system that supports the latest Bluetooth 4.2 transmission, offers lossless stereo audio playback, and handles bluetooth wireless transmission up to 20 meters when the module is connected to a mobile phone, television, or any other device that supports bluetooth audio transfer.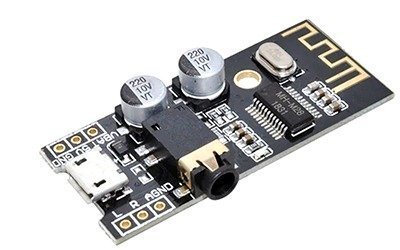 Quick Start
Just to set the module in operation, connect a stereo headphone to the 3.5mm stereo audio socket  of the module, and plug the output cable of your usb power bank into the micro-usb socket of the module.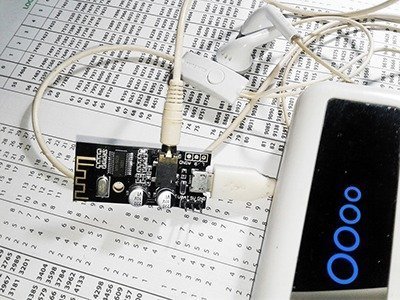 After the module is powered up, you can see you're your mobile phone searches for the bluetooth name "MH-M28" and plays music if the bluetooth connection is established. Note that if the bluetooth connection is unavailable, blue indicator in the module flashes quickly but remains lit if a valid wireless link is there in between the module and the bluetooth appliance. When the bluetooth is playing, the indicator light flashes slowly.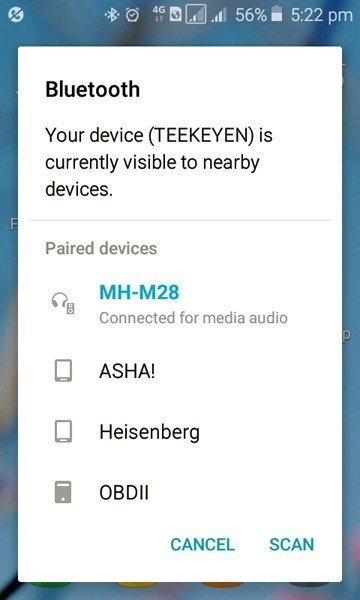 Add a Battery
While travelling (or in a leisure time) you can ofcourse keep your mobile phone in a secure place and listen music if a power bank is available to run the module. However the module has an option to connect a single-cell (1S) Li-ion battery (3.7v/300mA minimum) through two header points. If a battery is there it'll get charged through the usb power supply, and the module continue to run on battery when usb power input is removed. Internal schematic of the relevant portion (and a setup pointer)  is given below. Note that there's no dedicated Li-ion battery charger electronics available on board (it's just a tricky recipe).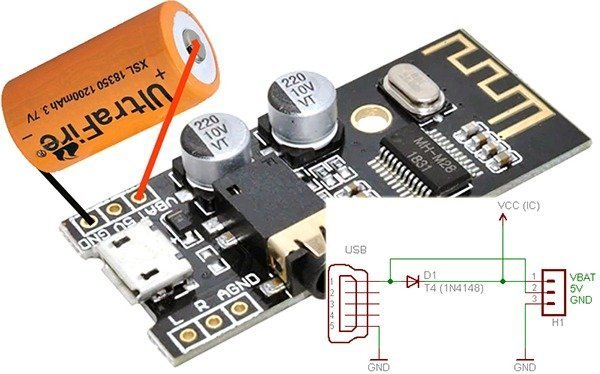 As you can see here, there's no wrong polarity input protection mechanism across the VBAT terminals so take extreme care while connecting the battery because incorrect polarity will kill the module immediately. Another problem is the lack of a master power on/off switch which is really less favorable when you want to mount your module with battery inside an enclosure. Anyway if you have good dexterity you can cut the positive power track in the rear of the module to add an external power switch. Refer next image and bang on!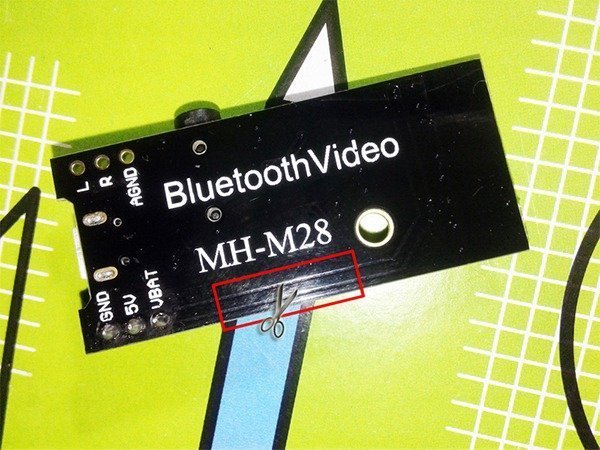 The MH-M38 Module
Let me introduce another powerful member of the family – the MH-M38 module which is very similar to M28 but with a stereo amplifier for driving loudspeakers. The additional stereo amplifier is based on two TC8871, the non-FM interference class AB/D audio power amplifier chip from Fuman Electronics, China.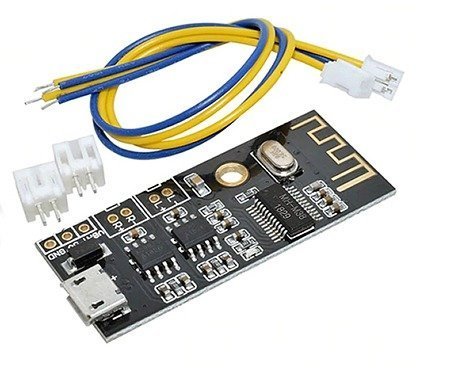 Key features of TC8871 is included below:
FM without interference, high efficiency, excellent sound quality
High output power (THD + N <10%, 1KHz frequency):
ESOP package for the 5W (2Ω load) and 3.5W (3Ω load), 3W (4Ω load)
Power-down mode leakage current is small
External adjustable gain, integrated feedback
Wide operating voltage range of 2.0V ~ 5.0V
Compatible with XS9871A, SC4871,TC8871, HXJ8002, SC8002B
Next is the application circuit diagram of TC8871 made up by the author. Thanks to the support from Shenzhen Fuman Electric Co. Ltd.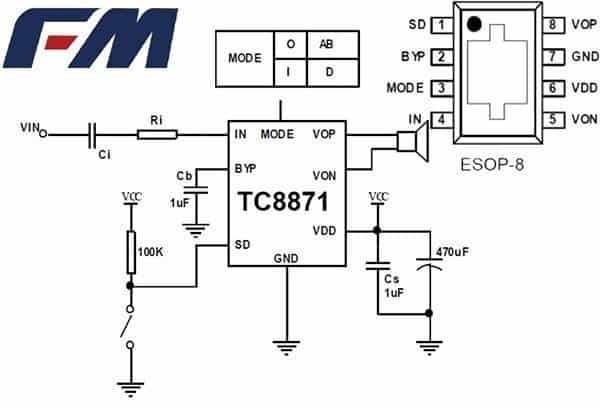 For the reason that there're many drop-in replacements for TC8871, you may find audio ICs with other numbers in the same MH-M38 modules but sold by different sellers. It's seemed that the most popular, pin-to-pin, alternative is XS9871A (next figure).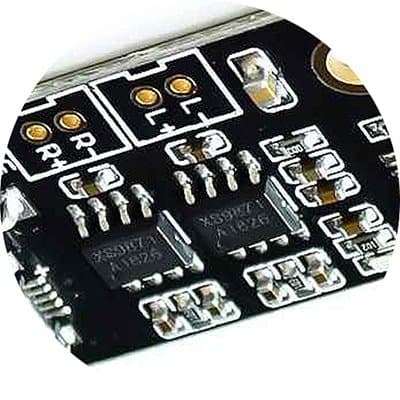 Conclusion
There's a common thought that bluetooth audio will never be sweet as wired due to its compression methods, however that is not true. Now, some codecs allow for lossy, and others allow for completely lossless (nothing is lost and all are retained from the original) audio streaming. By definition, lossless means an audio file that typically has a high bitrate and comes in a variety of formats such as FLAC, WAV, or ALAC.
If you know what you are doing, these modules are good just for the fun, but do not expect to learn/hack anything. It's good for someone just wants to make an inexpensive stereo bluetooth headset and/or stereo bluetooth speaker. The modules, centered on customized chips, are available without concise user guides on how to play with them up. But now I think you learned many things from this article, and you may now know how to properly hook them up. Enjoy!