Mixtile has just unveiled 18% OFF discount for pre-ordering the Core 3588E. Mixtile Core 3588E System-on-Module (SoM) is driven by the potent RK3588 chipset, delivering impressive performance while consuming minimal power. Key features of this product include an 8-core CPU, a 4-core GPU, and the capability to achieve up to 6 TOPS NPUs. Additionally, Core 3588E is equipped with a 260-pin SO-DIMM edge connector that is fully compatible with NVIDIA Jetson TX2 NX carrier boards.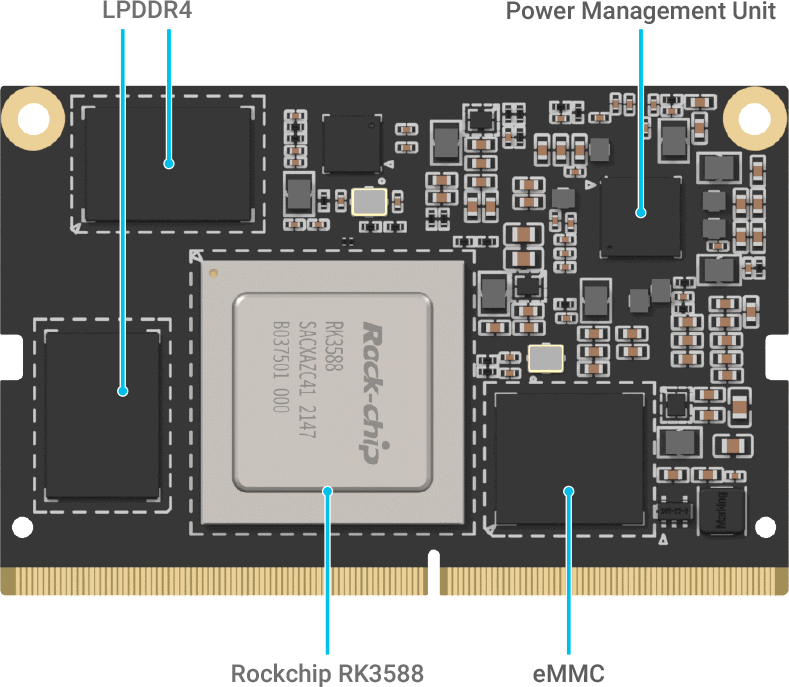 As an alternative to the Jetson TX2 NX, the VPU codec performance of Mixtile Core 3588E surpasses that of the Jetson TX2 NX. While Jetson TX2 NX is limited to video decoding at 2x 4K@p60 and video encoding at 1x 4K@p60, Mixtile Core 3588E handles 8K@p60 video decoding which is equivalent to four channels of 4K@p60 video simultaneously. Additionally, Core 3588E supports 8K@p30 video encoding for H.264 and H.265, which is equivalent to encoding two channels of 4K@p60 video.
Mixtile Core 3588E also outshines the PCIe design. Jeston TX2 NX's PCIe 2.0 interface only has 2 lanes and leaves several pins unused. Core 3588E creates a PCIe 3.0 4-lane interface, which is four times faster than the 2-lane interface of Jetson TX2 NX. This distinction makes the Core 3588E a better fit for developers looking for improved performance and faster data transfer capabilities.
Mixtile Core 3588E is now open for pre-orders with an 18% OFF discount. Early bird price is $109 (4GB RAM+32GB eMMC) and $159 (16GB RAM+128GB eMMC). Please note that the price will increase soon. It is expected to deliver in Mid-October via International air mail.
Technical Details and Specifications
CPU: Octa-core processor with 4x Arm Cortex-A76 cores @ up to 2.4 GHz, 4x Arm Cortex-A55 cores
● GPU: Arm Mali-G610 MP4 GPU with support for OpenGL ES3.2, OpenCL 2.2, Vulkan1.2
● AI accelerator: 6 TOPS NPU with support for TensorFlow, Caffe, Tflite, Pytorch, Onnx NN, Android NN
● ISP: 48MP ISP with HDR support
● VPU: 8K@p60 video decoding (H.264/H.265/VP9), 8K@p30 video encoding (H.264/H.265)
● System Memory: 4GB, 8GB, 16GB or 32GB LPDDR4
● Storage: 32GB, 64GB, or 128GB eMMC 5.1 flash
● Ethernet: GbE PHY
● Connector: 260-pin SO-DIMM edge connector compatible with Jetson TX2 NX
● Extended Storage: SD 4.0, SDHOST 4.0, and SDIO 3.0
● Display: 1x DP 1.2a, 1x HDMI 2.1
● Camera: 3×4-lane or 5×2-lane MIPI CSI interfaces @ 2.5Gbps/lane
● Networking: Gigabit Ethernet
● USB: 1x USB 3.0 (Gen1), 3x USB 2.0
● PCIe: PCIe Gen3 x4 + PCIe Gen2 x1
● Supply Voltage: 5 VDC
● Dimensions: 69.6 x 45 mm (NVIDIA Jetson TX2 NX, Orion Nano,… form factor)
● Temperature: 0 to +80℃ operating temperature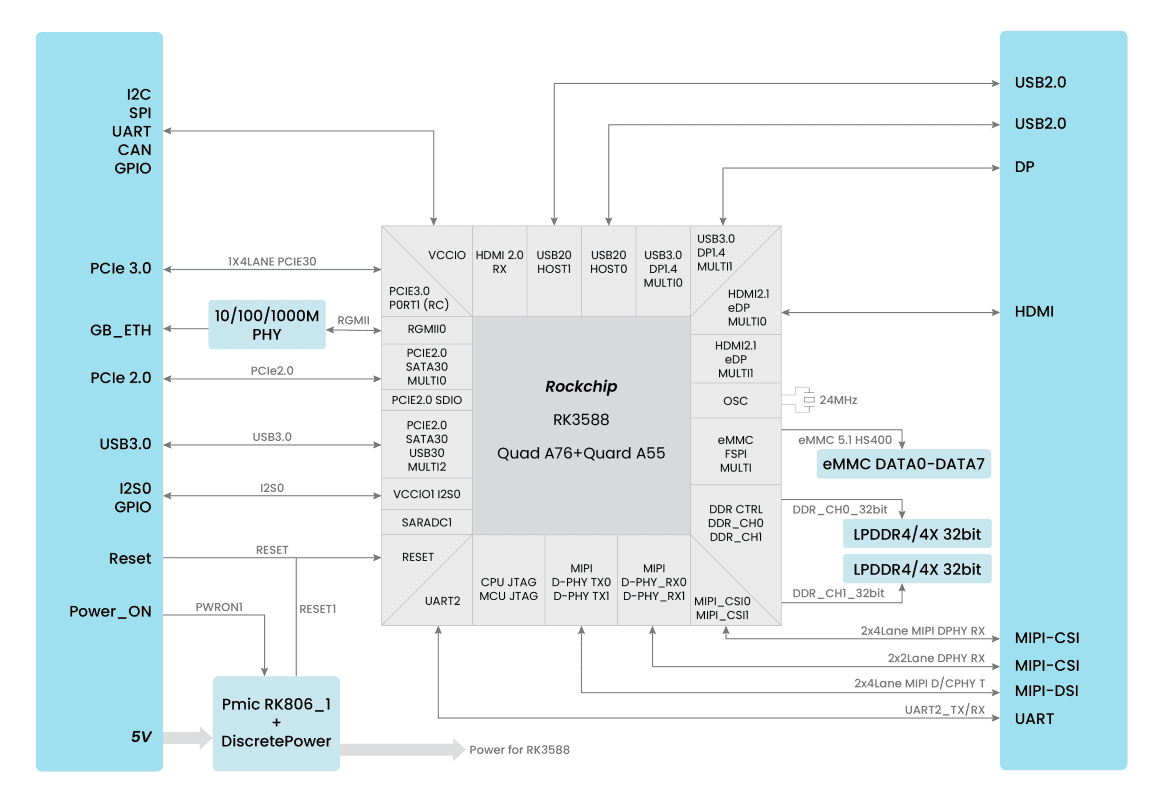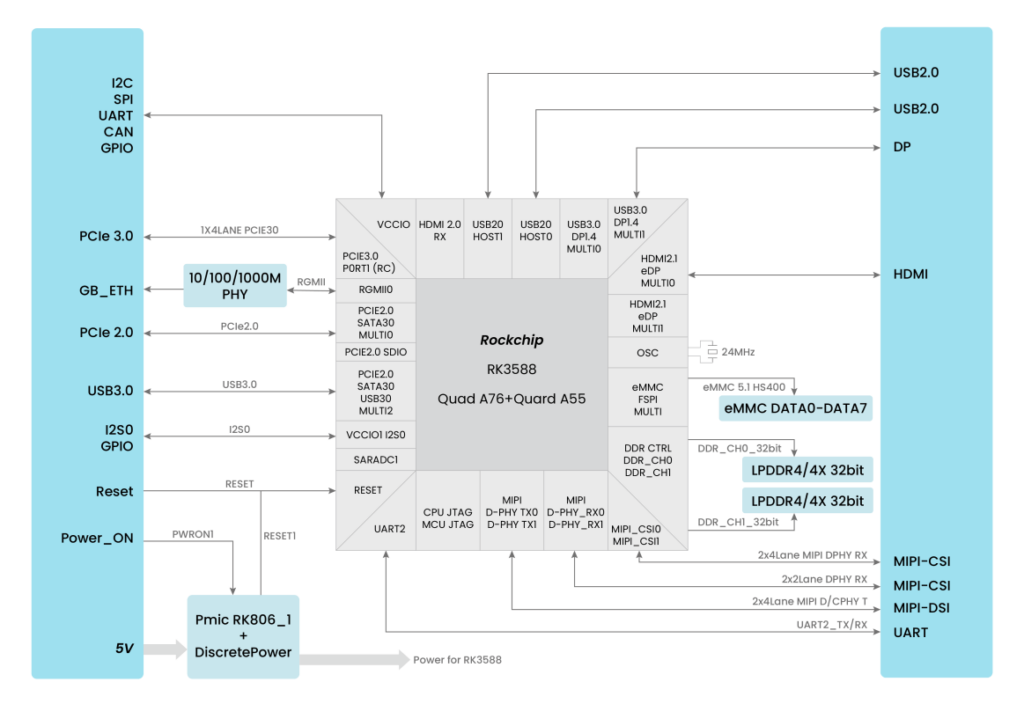 Mixtile offers support BSPs for various operating systems, including Android 11, Debian 11, Ubuntu 22.04, and Armbian 23.07. Additionally, Core 3588E boasts an ARM Mali-G610 MP4 GPU, guaranteeing exceptional graphics performance. You can rely on it to effortlessly manage demanding graphic tasks, including gaming, multimedia rendering, and advanced visualizations.
For detailed specifications of the Core 3588E SoM, you can visit the Mixtile official website.