When you are dealing with prototypes and developing unique products with latest technology there is a chance that things might go wrong.
UTSOURCE is the right place to choose electronic components to build high-performance products at a faster pace.
They provide wide range of components from more than branded manufacturers like Siemens, Texas Instruments, ARM, Xilinx, Murata etc.
 What do they offer?
They offer millions of components such as IC chips (Digital and analog), modules (Power supply, Rectifier, Diodes etc.). They provide passive components such as resistors, capacitors, Inductors, Ferrite beads and transformers.
They are unique in providing Fiber optics modules and transceivers for network-related applications. Other than this, they are open source suppliers for Microcontrollers and Microprocessor development boards related to STMicroelectronics, PIC, AVR, FPGA boards, Wireless communication boards (WIFI, Bluetooth).
In order to bridge the gap for automotive and industrial applications, UTSOURCE sell LED modules, displays, electromechanical parts (switches, relays, power converters).
Other than this, they manufacture PCB for 2 layer, 4 layer, 6 layer and 8 layers at best price and high quality.
Product Portfolio
UTSOURCE was a leading supplier of electronic products with wide variety of categories.
Passive Components include different types of resistors, capacitors (high precision and low precision), and inductor filters that suite your application needs. Some of them are Potentiometer and variable resistors, SMD resistors, current sensing, LED strip, Resistor Network and Arrays, Varistors, Thermistors (NTC and PTC), ferrite beads, filters, and transformers.
Crystals of different types and frequencies like DIP Oscillators, Radial cylinder, Ceramic and Raw Resonators, SMD crystals and Oscillators.
Fiber Optic products for telecommunication such as 40G/100G optical Transceivers (for Ethernet, Infiniband) and XFP transceivers, Active optical cables, optical fiber patch cables (single mode and multimode, polarized), high speed direct attach cables (Direct attach copper, active direct attach copper and Active optic cable) and HDMI optic cables. These support communications like SONET, SDH, and Gigabit Ethernet. For higher data rates 10Gbps you can go for SFT+ transceivers.
They sell Wireless communication products that support WIFI, GSM/GPS, Bluetooth, RF, UART interfaces and wired communication interface boards like RS232, RS485, USB-UART converters, and Ethernet evaluation boards.
Different types of Sensors such as Temperature and Humidity, Gas, Flame, Ultrasound, Heart rate, Current and voltage sensor, Flow sensors, and Pressure sensors of various kinds are available in UTCSOURCE store.
Why UTSOURCE?
Authorized distributor of electronic parts for more
15 years of trusted service.
Millions of electronics components ready for immediate shipment.
BOM Manager for choosing products.
Faster delivery.
Guaranteed customer satisfaction.
Effective ESD protective packaging for packing items.
Free shipping for order over US $29.90 (1st2kg) using HKPOST, China Post and BPOST. And, free shipping for US $99.90 order on 1st 0.5kg.
Service Offerings
BOM cost estimation
You can search for the parts you need and upload the BOM. UTSOURCE estimates the cost and recommends the best alternative parts for your product at the lowest price.

As they are associated with millions of online electronic suppliers, they can find the best parts for the users. Along with the finding components, this company manufacture 10 pieces of PCB's for 10$. This will reduce the time to market and increase productivity.
Free PLUS& FBU
Based on the purchase order they offer discounts for the beloved customers with 90 days free return policy. They offer different monthly plans for plus members. They are a trusted sources for quality products with the best prices.
They provide shipping coupons for certain purchases as shown below.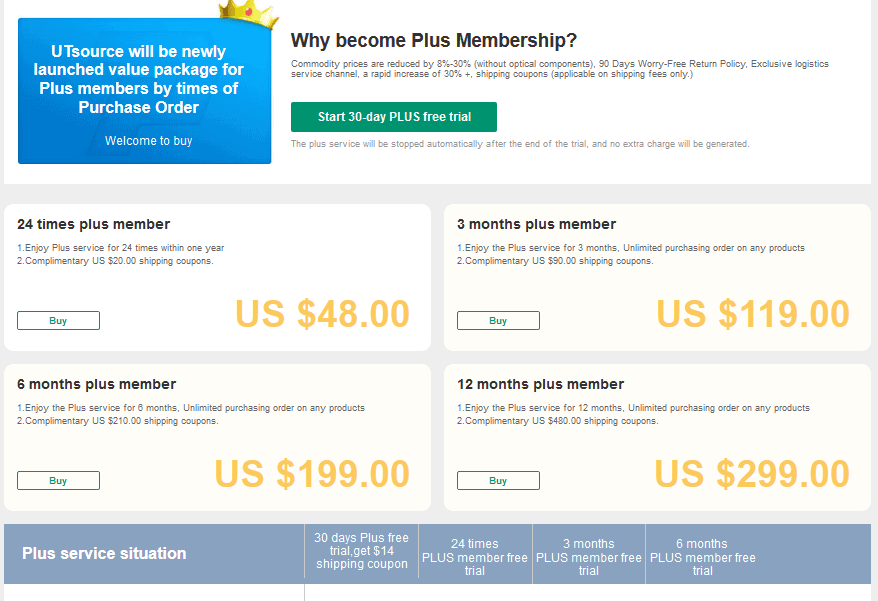 Other than this, they run a service known as FBU (Fulfillment by UTSOURCE). The motive is to provide refund if anything goes wrong during shipment. UTSOURCE use different gateways for online payment through PayPal, VISA, MasterCard, American Express, Paytm, and offline payment through MoneyGram, Webmoney, and Boletol etc.
They are partnered with various global logistics for easy shipment worldwide such as DHL, FEDEX, SFC, United States postal service etc.
FlagShip Stores
They has a strong business development team engaging with flagship stores offering 6 million original products with more than 800 original brands.
They are honored for 60 plus days after-sales services for their products that meet and satisfy customer requirements.
Online presence
UTSOURCE powerful management system maintains products in their warehouse for in time delivery with guarantee quality.
For more information, download their app in play store or visit https://www.utsource.net/